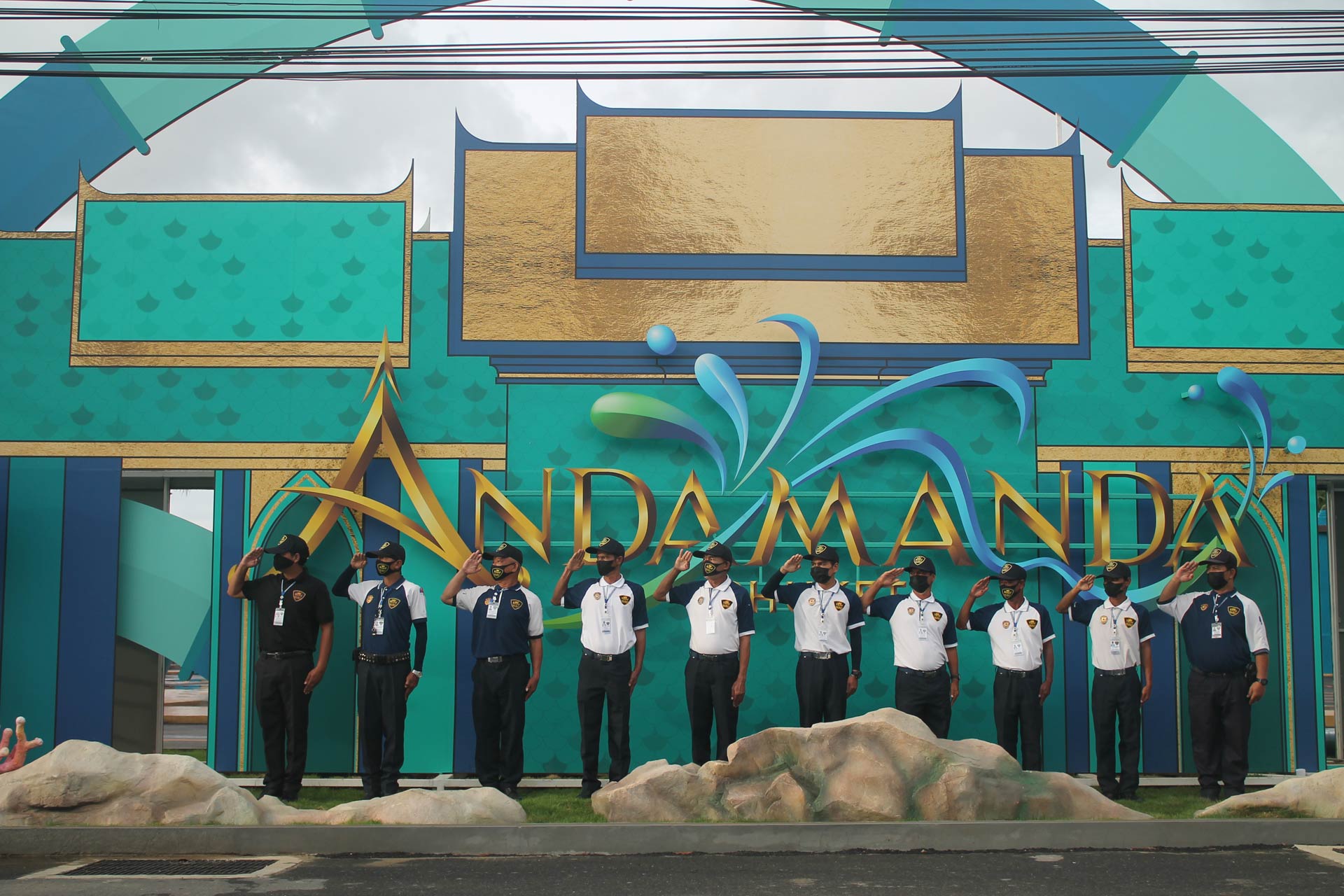 Royal Security Solutions Ltd is proud to announce our recent team security services contract win with Phuket's largest leisure and entertainment destination Andamanda Phuket a collection of more than 12 thrilling slides and 36 activities with exhilarating names such as AquaDrop, Bubba Tub, Boomerango, AquaLoop, Whizzard and Speed Slide, plus a FlowRider Double surf simulator and a toddler splash zone. The 550-metre-long lazy river will be the longest in Asia and the vast 10,000 square-metre wave pool will able to generate waves up to three-metres high – the highest of any pool in Southeast Asia – while also catering for up to 25,000 people for concerts.
RSS has been chosen to provide a wide range of security related services specifically designed for this particular entertainment venue.
RSS Professional security guards are trained to conduct bag checks with as much respect as possible. A security guard should also conduct the search in front of you so there's no question about what's found. If possible, the guard should also conduct the check in an area where you feel like the contents of your bag are kept private, just in case you have personal items, such as medication, that you don't want other people to see. If you own a business or you're hosting an event, having security guards perform bag checks can prevent theft and ensure the safety of your employees and customers or event attendees.
Car park security has to be one of the most important aspects of managing your land or property. Car parks can be highly abused by visitors by unauthorized access or not paying, breaking into or stealing other vehicles, trespassing or any other unruly behavior.
Amusement parks tend to go to great lengths with private security, both uniformed and undercover. Here's why:
Crowd control. Too many people entering, gathering, or exiting at once can lead to injuries, if not fatalities.
Legitimate ticket purchases. Here's where both digital security and personal security both play a part. The computer wizzes might be able to print fake tickets.
Child kidnapping detection and prevention. Amusement parks, unfortunately, are a pedophile's prey dream and a parent's nightmare. Private security personnel are specifically trained to be on the lookout for potential offenders.
Theft monitoring. People are so focused on the fun they often forget to be cautious with routine safety. In addition, it's easy to pick-pocket in a crowd.
Terror threats. Part of terrorists' goals is to disrupt happiness in the general population and to make people feel fearful of letting go and enjoying themselves. Therefore, the risk of terror is greater for mass gatherings when people would least expect it – when they're having fun at an amusement park.
Employee Mishandling of Rides. On occasion, an employee goes haywire and operates the ride machinery dangerously. Private security can be called in immediately. All the more importantly, a private security firm can execute background checks in order to minimize any employee mishaps.
As Risk grows security must also we're going to see the implementation of more security measures, heightened security … than we've seen in the last three decades.